This is Not a Glitter Factory (Vortex Magazine)
Little does Portland know, but the world's greatest guitar cables are made and sold by two of its very residents.

Gil Divine has created a guitar cable that is mechanically perfect. He and his wife, Nicole, run Divine Noise, which sells cables to some of the greatest guitarists on the planet.

My question was: What is it that makes the cables perfect?

Story was published in Vortex's Fall 2018 issue. Also screen-shotted and copied below.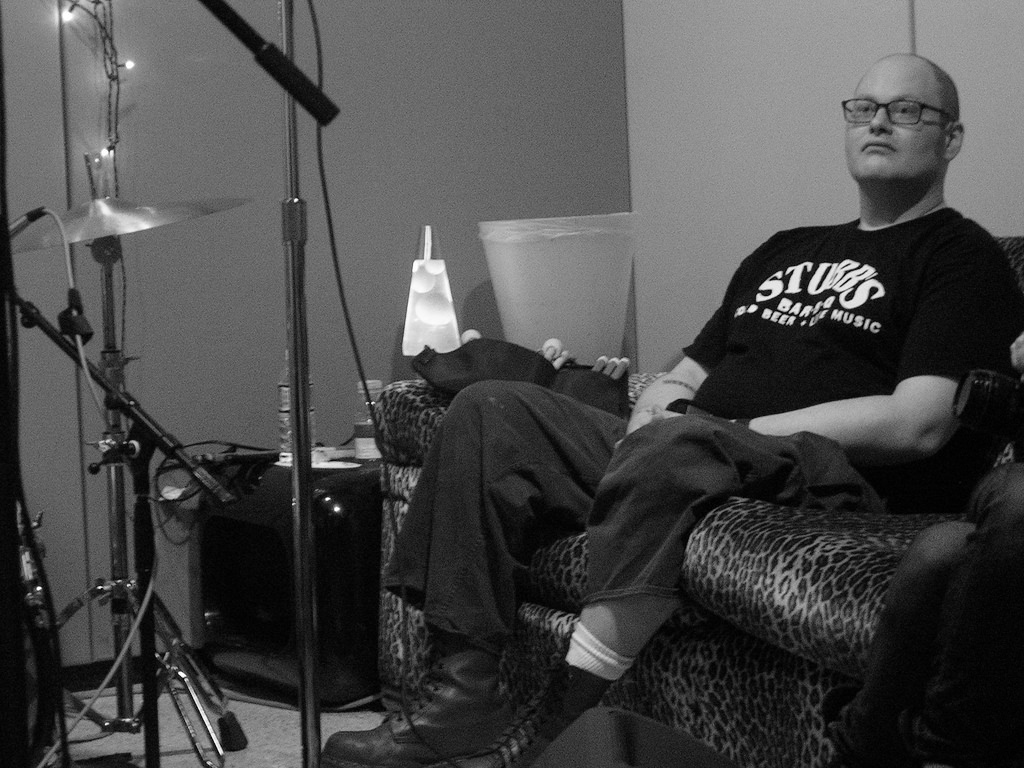 Every evening, from 6pm to midnight, Gil Divine sits in a shed behind his house and hand solders the best guitar cables in the world.
The best, I say, because they're used by world-famous musicians: Bob Dylan, Prince, Jack White, Wilco, Tame Impala, The Black Keys, Dinosaur Jr.'s J Mascis and many others.
Yet Divine never intended for this to happen. "We never had a business plan, and I never set out to start a cable business," says Divine, who runs the Portland-based Divine Noise with his wife Nicole. "It was something I did well, and there was nothing remotely as reliable or roadworthy on the market. And to be honest, I still don't think there is today."
Divine started as a poor musician in Oakland. Too broke to buy new guitar equipment, he apprenticed as a luthier and learned to fix his own. He evntually became a guitar tech and toured the world with The White Stripes, Yo La Tengo, Lucinda Williams, Cat Power and more.
One band—…And You Will Know Us by the Trail of Dead—had a regular habit: At the end of each show, they'd decimate their equipment, shattering guitars and destroying drum kits. Divine wanted to build a cable that'd survive the annihilation, a challenge which—along with the terror of ever having to go on stage and fix something—resulted in a guitar cable that's mechanically perfect.
Yes, perfect. Divine's cables do not break—not during a show, not during a tour, and not during the subsequent years. He hand solders each one himself using the highest quality material. Every part is carefully inspected before assembly, and ever cable is tested twice before shipment. And whether it's for Dylan or garage hobbyists, Divine applies the same exacting precision. "I can't make a half-assed cable, I just can't," he says. "And that's why they're so reliable—I put my full ass into every single one. I make each cable like it's going to represent me."
When Divine was 16, he worked in a glitter factory. It was "a shit job"," he says, the only takeaways being a paycheck and a coat of glitter. He bore no personal connection to the product and no responsibility for its outcome, a sentiment which has kept his work so intimate. "If we ever expanded, then I wouldn't be making the cables," he says. "And the last thing I'd want is to hire someone who's like, 'Fuckin' cables, who gives a shit?'"
"Maybe it's just a cable, but our whole world is in that cable," he continues. "Sure, there are other things we could do to make money, but this is us. And nobody's gonna care as much as I do when making cables. Nobody."
When starting the business, the Divines drove across the U.S. to personally meet each seller—yes, every retail location—to ensure the cables were in good hands. Even now, Nicole Divine sends a handwritten note with every order, a practice she's done since day one. Every Divine Noise cable has their name on it, along with the personal guarantee that, years later, it will work the same as when you first bought it. Staying connected to their local scene, the likes of Portugal. The Man, Modest Mouse, Unknown Mortal Orchestra, The Dandy Warhols' Peter Holstom, The Decemberists' Chris Funk, and Starfucker depend on their cables.

Divine Noise hardly markets itself, its internet presence is slim, and you won't find the cables in big box retailers. The Divines don't allow discounts or sales and they don't give the product away to anyone. And 10 years in, they still don't have a business plan; they make a flawless product and they treat their customers with respect. It's just Nicole and Gil, and that will never change—perfection, after all, does not lend well to expansion.